INTRO
---
Transformer Time
L'Epée 1839 and MB&F present Grant, a triple-tracked, Mad-Max-cross-Transformer robot clock on a mission. In today's fast-paced, always-on, 24/7 world, we are under constant bombardment from time. The nearest hour was once precise enough; now the world's most accurate clocks are better than a second over the entire age of the universe! No wonder you are stressed, but relax, help is at hand. Grant is here. Grendizer meets Mad Max meets Transformer.
THE STORY
---
L'Epée 1839 developed Grant to MB&F's design using its 8-day, in-line manufacture movement as a structural base. Inspired by sci-fi movies and cartoons, Grant doesn't just look like a complicated robot timepiece, he is an incredibly solid piece of complex high-precision micro-engineering with an impressive 268 components going into the construction of his body and clockwork. That's more components than in many complicated wristwatches.
Whatever the angle, Grant's highly polished clockwork is on full display, and you can follow every click and turn of the gears. The mainspring barrel click near his 'belly button' is particularly mesmerizing in operation. The isochronal oscillations of the regulator keeping time in Grant's glass-domed 'brain' are evidence of the clockwork's high precision. Watching Grant "thinking" in real time is a stress-relieving activity in itself: Grant transforms time so that you can relax and enjoy it.
While he doesn't look for fights, Grant believes offense is a great form of defense and packs appropriate weaponry. His left arm holds a "you-really-don't-want-to-mess-with-me" spinning disk, while his right arm clasps a removable grenade launcher. Grant even has a surprise up his sleeve: his grenade launcher is removable and doubles as the winding and time-setting key for his 8-day clockwork, so he isn't likely to run out of either firepower or time.
Any questions ?Contact us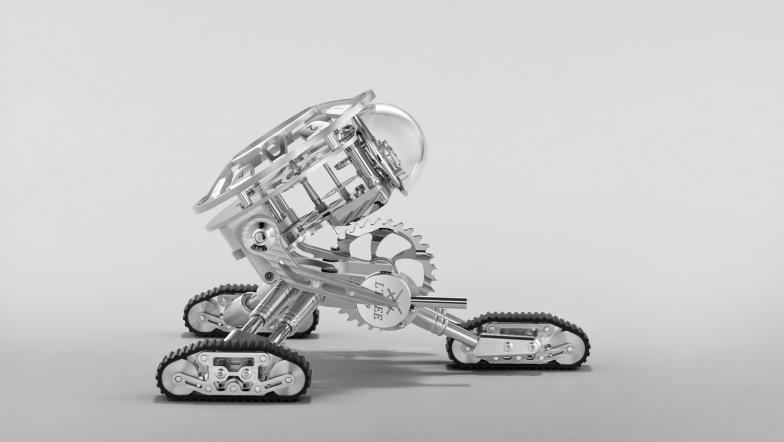 INSIGHTS
---
Under the transparent mineral glass dome on Grant's "head", the clock movement's regulator – consisting of the balance and escapement – features an Incabloc shock protection system to minimise the risk of damage when the clock is moved or transported. Shock protection is standard in wristwatch movements; however, it is unusual in clocks, which are generally stationary. But then Grant is no stationary clock; he is a robot on a mission to transform time.
Grant transforms into three positions, each with a practical purpose.
Position 1: Grant's torso folds flat in his lap with his shield/time display lying horizontal across his back. This flat position enables the time to be easily read if Grant is significantly lower than the viewers' eyes, like on a coffee table, the winding key will wind the 8-day mainspring.
Position 2: Grant's torso locks securely into place at 45 degrees, from which he transforms into a more recognisably robotic shape. In this angled position, if resting on a desk or table, the time display is easily seen whether the viewer is sitting or standing.
Position 3: Grant's torso sits up straight at 90 degrees to his chassis, with his shield now lying vertically along his back. Perfectly displayed on a shelf, in this position, Grant looks most like the Mad Max warrior he sometimes longs to be (that's AI for you) and the key will now set the time.
However (and please keep this to yourself), the real reason Grant transforms into three different modes is that it gives us three different ways to play!
Time display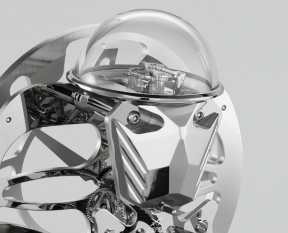 Grant's brain represented by the escapement inside a blown glass dome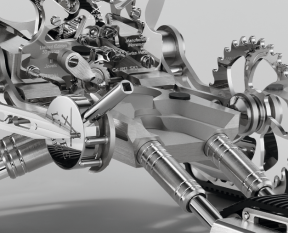 Grant's heavy weapons
Grant's tracks
SPECIFICATIONS
EXCLUSIVE LIMITED EDITION
Grant is available in three limited editions of 50 pieces each in Nickel, Black, and Blue
DESIGN & DISPLAY
Hours and minutes display
Transformer body with three operational tracks and three positions of clock/body.
268 components
DIMENSIONS & WEIGHT
Truck: 115 mm tall x 212 mm wide x 231 mm long
Robot: 166 mm tall x 212 mm wide x 238 mm deep
Weight: 2.34 kg
MOVEMENT
L'Epée in-house designed and manufactured in-line eight-day movement
Balance frequency: 2.5 Hz / 18,000 bph
Incabloc shock protection system
Power reserve: 8 days
MATERIALS & FINISHING
Stainless steel, nickel-plated brass, palladium-plated brass
Dome/head: mineral glass
Geneva waves, anglage, polishing, sandblasting, circular and vertical graining, satin finishing
FEATURES
Winding: key on right hand doubles as weapon and pulls out to reveal a double-depth square socket key that both sets the
time and winds the movement (on the back/dial side of theclock)
Grant transforms into 3 positions, each with a practical purpose
special features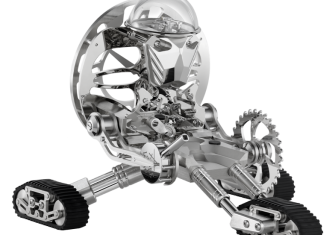 Alternative position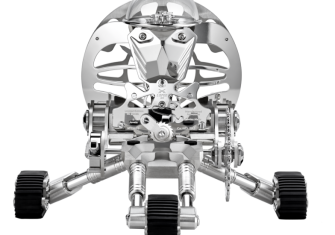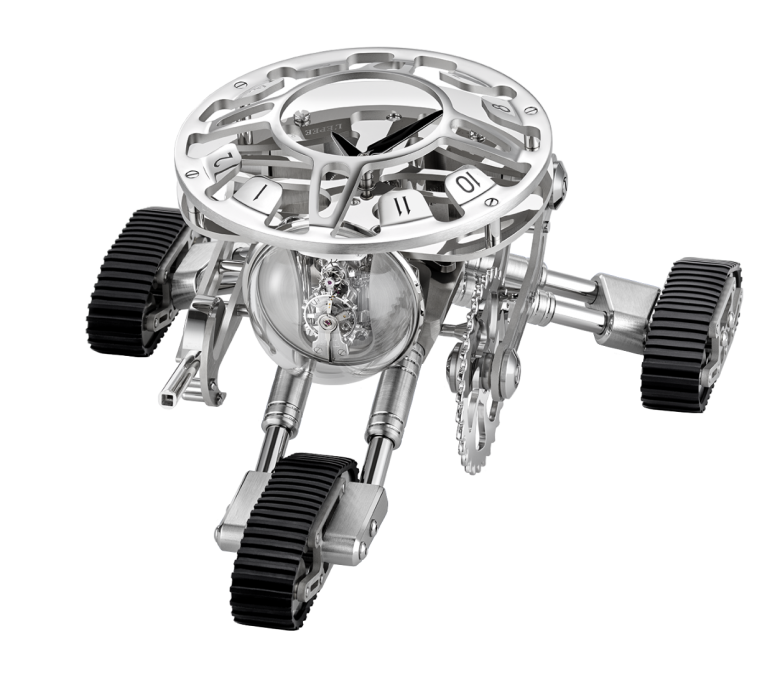 Reference
76.6005/104
Nickel - Limited edition of 50 pieces
AVAILABLE Add to cart

23'300 CHF / excl. VAT
special features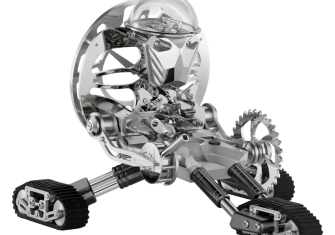 Alternative position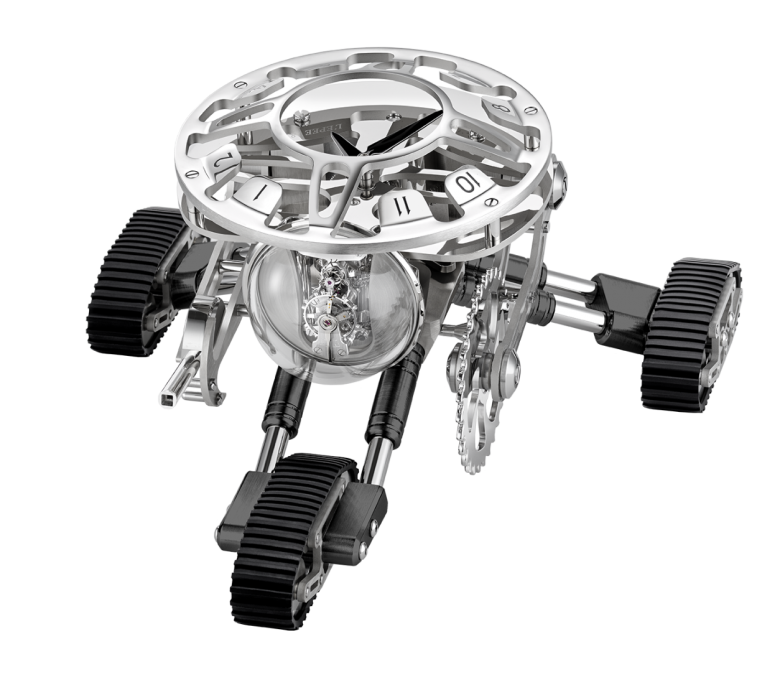 Reference
76.6005/201
Black - Limited edition of 50 pieces
AVAILABLE Add to cart

23'300 CHF / excl. VAT
special features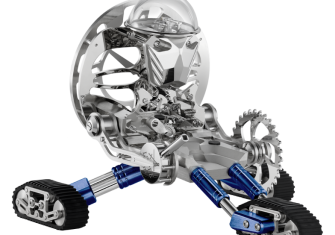 Alternative position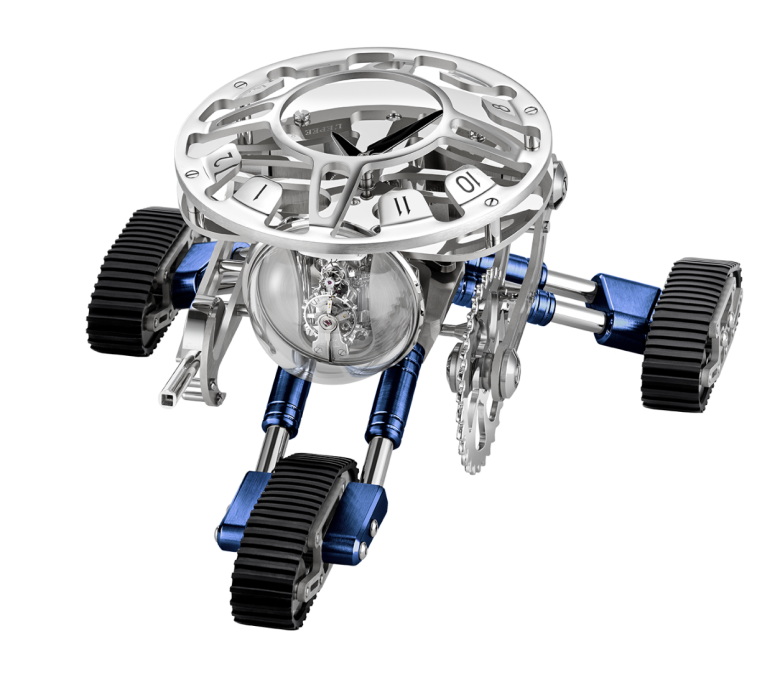 Reference
76.6005/401
Blue - Limited edition of 50 pieces
AVAILABLE Add to cart

23'300 CHF / excl. VAT